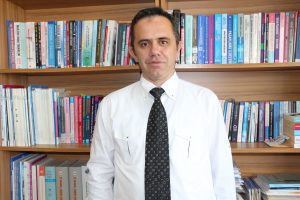 Department of Gastronomy and Culinary Arts which started education at faculty of tourism of Afyon Kocatepe University in the academic year of 2014-2015 with 35 students daytime education and 35 students at evening education,was accredited by TURAK (evaluation and accreditation of tourism education committee) in 2020 and continues its educational activities in AhmetNecdetSezer campus. There are 8 academic staff in the department; 2 assoc. prof., 1 assist. prof, 3 lecturers, and 2 research assist.Beside these, academic education is also supported by other faculties like Faculty of Engineering, Faculty of Fine Arts, The School of Foreign Languages, hotel managers and chefs. There are 550 students and 232 graduates in the department.  The duration of education is 4 years and there is also an English preparatory program which is not mandatory.
Department of Gastronomy and Culinary Arts aims to graduate students who can take up a position in public or private enterprises, tourism, food and beverage sectors, service sectors by taking social and ethical conditions into account. Graduates can also continue their careers as effective leaders and harmonious team members in professions like chef, sous chef, chef de partie, food and beverage waiter/waitress, gastronomy authors, food stylists and photographers, restaurateur, culinary trainer, food and beverage advisor. In addition to these, our goal is to graduate students who go on their academic careers with continuing education conception. In this respect, the aim of Department of Gastronomy and Culinary Arts is to train chefs and managers, who are capable of knowing all academic knowledge and applications in the area, and who can improve themselves socially and culturally and can solve problems and do the work by using scientific methods, while having all these specifications they are expected to be beneficial individuals for their countries and the society they are in by using their knowledge and skills at universal level. Department of Gastronomy and Culinary Arts, which updates its education and training activities with suggestions of internal and external stakeholders within the scope of continuous improvement, teaches applied courses with its highly equipped training kitchen from the very beginning of the first academic year. In addition to the courses in the curriculum, students' skills are developed by a 60 work-day summer internship and a single-term on-the-job training course which can be taken in the last academic year(7th or 8th semester). Studying in the Department of Gastronomy and Culinary Arts in Afyonkarahisar, listed in UNESCO as a creative city of Gastronomy, besides social and professional development, gives students a wide range of opportunities.
Dear students, during your academic studies at our department, I advise you to carry on improving yourselves both socially and academically. As a great supporter of you on following your rights in academic and administrative relations consciously, I greet you with all respect and I wish you success on your studies in the Department of Gastronomy and Culinary Artsof AfyonKocatepe University.
                                                                                                                                                   Assoc. Prof. SABRİ ÇELİK
                                                                                                                                                             Head of Department
12 November 2015, Thursday
5037 kez görüntülendi